Three Borders Landmark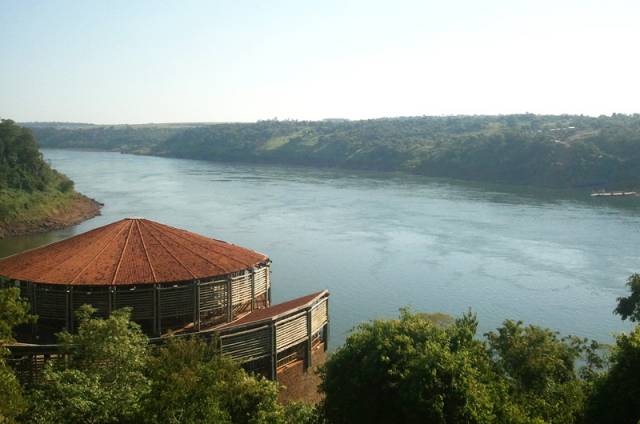 The Three Borders Landmark is one of the main historical sites of the city of Foz do Iguaçu, where the Iguaçu and Paraná rivers meet, but more than that, there are three borders of great nations of South America: Argentina, Brazil and Paraguay. The "Marco das 3 Fronteiras" symbolizes some of the reality of the region where the borders are so close and present, that sometimes do not seem to exist.
Opened in 1903, the Three Borders Landmark, consists of three structures, one in Foz do Iguaçu, one in Ciudad del Este and the other in Puerto Iguazú, and are characterized by the colors of the flag of each country. Know the place, you know a little more about the history of the region.
Here also find the old amphitheater, Space of the Americas, which was once one of the most beautiful spaces of events. Its architecture allows the inside of the main hall to see the going down of the sun, and the meeting of the Iguaçu and Paraná rivers.
In 2015, the mark on the Brazilian side went through the implementation of a new tourism project, and is being revitalized as an attractive, becoming the Tourist Complex Marco of the Americas.
How is the tour
The Three Borders Landmark is in a period of change, and soon we can detail information about the new tour of the tourist complex should begin its activities on 22 December 2015.
Rates and Schedules
Soon new information.
Remember it
– A new framework is being implemented as a historical and cultural revitalization project
– Soon more information
Additional Information
Official website: www.marcodasamericas.com.br
Official facebook: /marcodasamericas